December 2018 / Scarborough, Ontario, Canada
New Book From Bluffs Monitor Writer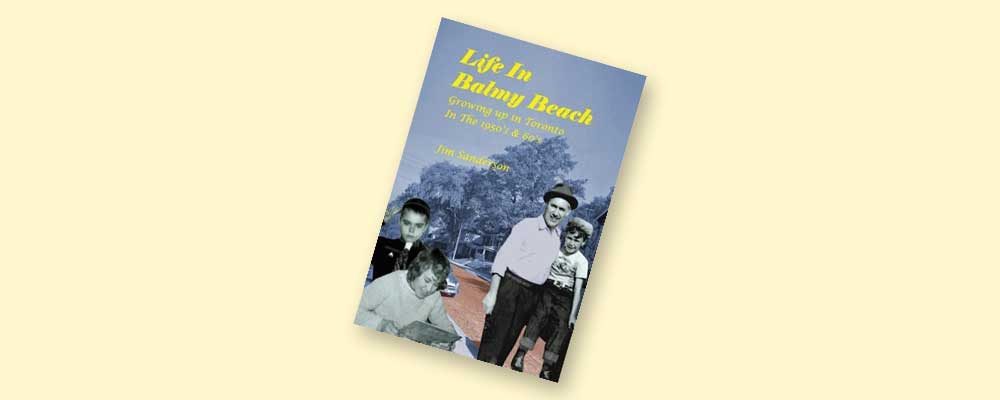 By E.M. Joseph
In  a new collection of short stories, Bluffs Monitor columnist  Jim Sanderson takes readers through the adventures and discoveries of a young boy growing up in Toronto in the 1950s and 60's.  Jim's family has lived in East Toronto for many years, and  many of his relatives still reside in south Scarborough and The Beach. This is the second book in his "Growing up in Toronto Series", a sequel to Toronto Island Summers,  published by James Lorimer, 2016 
Some stories in this new book are about the simple pleasures of childhood: shinny hockey on the Glen Manor rink, a fish and chip lunch on Queen Street, smelt fishing on the Nursewood pier. Others deal with more complex issues: the effects of World War Two on the families of neighbours and friends, the realization that a close friend was gay when he was still in grade school, trips to the United States to encounter racial unrest and the turbulence of the Vietnam war.
Residents who lived in the Beach District during the 1950's and 60's will recognize many  landmarks:  The Alpine Hotel,  Glen Manor Park,  Balmy Beach School, Malvern Collegiate, neighbourhood shops like Laura Secord Chocolates, the Honeymoon Ice Cream counter, Scarborough Movie Theatre, and Heddon Hardware, which is still in business today
"I wrote these stories to help people understand some of the differences and similarities between the lives of children of 50 years ago,  and today," Sanderson says. He notes that some things are cherished by kids of every era: a caring family, good food, comfortable places to  live and play, encouragement and positive support,  respect from parents, siblings, and friends. Differences between childhood life in the 1950s and today include more interactions with strangers, more unsupervised experiences in the natural world, the absence of  video games, cell phones, and computers, and a more limited knowledge of events and cultures in other parts of the world. 
Early stories in the book describe things like the Sanderson family's entertainment centre:  a black and white, 12 channel television in a cabinet that was kept closed during the day to make it look like an ordinary piece of furniture. Its doors were opened to present cartoons on  Saturday morning, Hockey Night in Canada on Saturday night and Walt Disney at 5:30 before Sunday dinner.  
Later stories take readers through coming of-age issues known to teenagers everywhere,  in the 1950s and today:  that shaky phone call to ask a girl out, that first date that became a long, slow, romantic failure, the  triumph of passing the Ontario Driver's License test,  then a trip across the border to encounter the city of Detroit in flames during the race riots of 1968   
Jim has been writing since he was a teenager, and for a time was a regular contributor to the Fast Forward technology section of the Toronto Star.  Beach Historian Gene Domagala,  Former Mayor John Sewell, and Cottage Life Editor Penny Caldwell  have written endorsements of this collection. 
Life in Balmy Beach is available at the end of this month at Indigo Coles Bookstore at Queen Street, at Cliffside Village Books on Kingston Road, on Amazon and other online booksellers, and through the Author's website at
www.torontoislandstories.com
.  A launch for the book, and Author signing session, will be held at The Slate Restaurant on Queen Street, in early December.