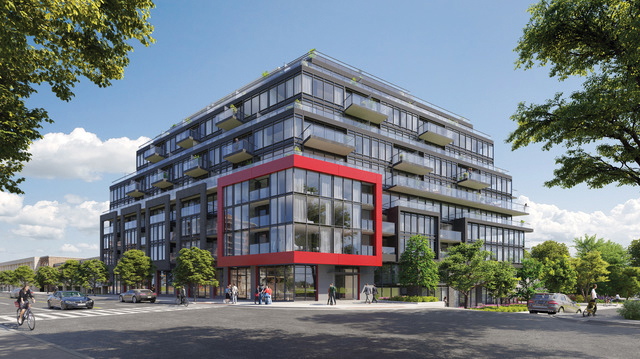 By Derek Pinder
An 11-storey condo at Kingston Road and Manderley Drive has been under design since 2017. Through that three-year period there have been a number of changes to the proposed building but two things remained constant: the Birch Cliff community showed its usual alacrity for being involved and Core Development proved to be up to the challenge; holding far more community consultations than is usual. The final design was acceptable to most of the local community. It formed a part of the Application for Zoning By-Law Amendment which was recommended for approval in August 2019, so it came as quite a surprise when the name of the developer was changed from Core to Nova Ridge Development on the yet-to-be-opened sales office. The Birch Cliff community was bewildered and there has been a good deal of speculation as to what this will mean. To find out, we sat down with two representatives of
Nova Ridge: Michael Butler, President, and Brett Thomas, Manager Project Development.
Nova had actually looked at this site some 20 years ago but, at that time, there were too few owners of existing buildings who were interested in selling to make a project viable. In late 2019, the Manderley development came on the market complete with zoning approval. It was a good fit with
Nova's business focus and they purchased it. They intend to meet or exceed all the commitments that were made in gaining approval. The height and the set-backs at the rear will remain unchanged and it is intended to construct a high-quality building. Geothermal heating and cooling will be employed.
Nova have brought in a new architect, IBI Group, and some changes to the building have been made. The Manderley and Kingston Road streetscapes have been improved by increasing the plantings and trees, replacing the townhouse entrances with patios and landscaping, and redesigning the store fronts to improve the architectural expression. Every suite will have access to private outdoor space in the form of balconies or terraces and there will be multiple amenity spaces throughout the building.
The current status of the development is that an application for site plan approval has been submitted to the City, the sales office is expected to open in September 2020, and the start of demolition is planned for February 2021. Although there will be no further public consultations, Nova will maintain community communications through a website, which will provide a means of dialogue, and by welcoming the local community to the sales office where models and plans will be available. Also under development is a plan to mitigate the impact of construction on the local community.
The portents are good and we look forward to an ongoing relationship of cooperation with Nova Ridge at this site which has been described as "the heart of the community".