January 2019 / Scarborough, Ontario, Canada
Community Spirit in Action
Guildwood P.S. serves up cups of love!
When the students and staff heard that the Toronto Hospital for Sick Children needed 5000 monthly donors for a new clinical hospital, they wanted to do something to help. That's how the hot chocolate initiative was born. This fundraiser was organized and led by an enthusiastic teacher, Mr. Yusuf Gulamhusein (pictured), "For the second year in a row, the students, staff and parents at Guildwood Public School have made a generous donation to Sick Kids Hospital. I'm so excited to deliver a cheque to the Hospital for Sick Children personally", said Mr. Gulamhusein. The students raised a total of $315, which surpassed their total donations from last year. The staff and students from Guildwood Public School would like to thank Starbucks at Warden and Eglinton, and Kingston Road and Morningside for graciously donating the cups and lids to support our initiative.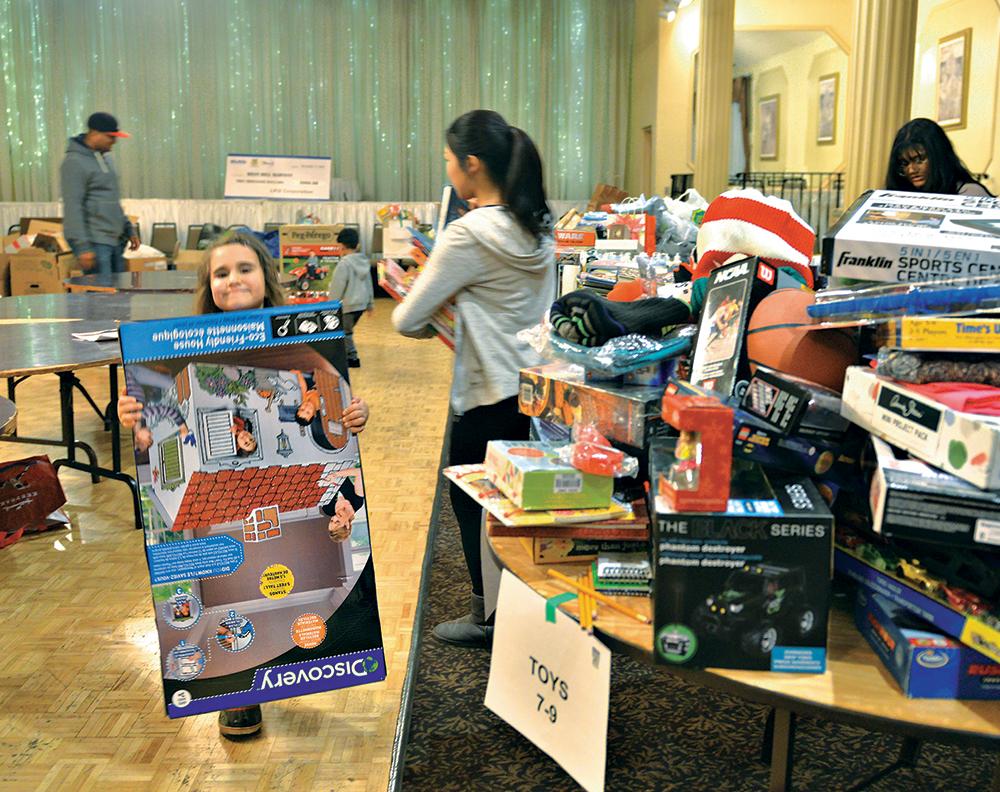 West Hill Harvest…
…has been serving Scarborough families in need for ten years. For the 2018 drive, they have partnered with the Scarborough Centre for Healthy Communities to sponsor 40+ local families. Local businesses, families, social groups and individual Scarborough residents have come together to help them build hampers of toys, personal care items, food and gift cards for grocery stores. Pictured below is 6 year old Thea Vona helping to sort and pack the baskets for distribution on Dec 20 at Qssis Banquet Hall. Qssis donated space and LKQ Corp. made a $2,000.00 donation. West Hill Harvest is a volunteer run community organization that has been serving the community for ten years. 100% of all donations go directly to the families. For more information please visit:
www.westhillharvest.com
.
This Apple Didn't Fall Far
Odin Oatway is getting ready to do his first fundraiser and it was all HIS idea! He is raising money for Make A Wish Foundation of Canada through a go fund me campaign and is hoping to make a dream come true for a terminally ill child in Canada this Christmas! He also set up a table and sold Christmas cookies and hot chocolate at Moore's Valu-Mart in Guildwood on December 16th. He is 10 years old and volunteered to even use his birthday money. He is pictured above making posters to let people know about his fundraiser. His mother is a social worker with  the Ministry of Social Services, who sets the example for Odin by leading the United Way campaign at work. 
Odin was able to raise $550.00 over the holidays and is excited to make the cheque presentation in person.
Denise Grosdanof Molloy and Tony Mauro: Carry donated skates to the opening of McCowan Distrct Park skating rink to be donated to anyone in need of a pair on Saturday, December 5th.
"Rotton" Ronnie McGrath: Donated $2,590.00 to Variety Village with the proceeds from his annual Halloween Haunt.
Toronto Professional Firefighters' Association and Variety Village: Toronto Firefighters have donated over $365,000.00 to Variety Village since their first Children's Christmas party in 1999. The Toronto Professional Fire Fighters Association hosts it's family and friends annual Christmas Party at Variety Village and supplies all of the Bouncy inflatables, games and equipment in order for Variety Village to host its World's Greatest Christmas community party the following day. And they present a donation annually to Variety for its programs in support of kids with disabilities.
Legion in Action: (From Left) Ken Thompson 1st vice president of Royal Canadian Legion Branch 13, Brother David Lynch from the Good Shepherd Ministries, Dan Burri, President RCL BR13, making a donation of $2,000 with proceeds from the lottery account and another $2,000 from the poppy account.on Thursday, December 6, 2018.