Where Will We Put Them?     April 2023
Home ownership is, for most people, the largest and possibly the most consequential investment one will possess. I was in my mid-twenties when I purchased my first home. That is generally not what today's younger people are finding possible as average home prices continue to move beyond their reach. However, the affordable housing shortage does not only affect first time buyers.
"In Budget 2022, the federal government acknowledged that Canada faces a housing shortage and explained that it will need to double its rate of new construction – currently 200,000 housing units per year – to 400,000 housing units per year over the next decade to fill the existing gaps and keep up with its growing population." (May 17 2022, Library of Canada)
"Last year Canada welcomed over 405,000 newcomers – the most we've ever welcomed in a single year. The Government is continuing that ambition by setting targets of 465,000…in 2023,485,000 in 2024 and 500,000 in 2025." (News release – Immigration, Refugees and Citizenship Canada, November 1, 2022)
The government doesn't mention the number of temporary foreign workers, refugees and foreign students coming to Canada. In 2022 that numbered over 600,000 bringing the total newcomers to over a million people.
Phillip Cross, a former senior economic analyst with Statistics Canada stated that "…we are off the charts compared to other G7 nations… with exceptionally high rates in immigration by any standards. Further… "44% go to Ontario…" and "Absorbing over a million people a year… is putting a great deal of strain on our housing stock…". (CTV News, March 22, 2023)
Local realtor Tony Mauro recently was approached by a couple who have been renting in Scarborough for years but couldn't afford to buy anything in the area. They decided to move to Oshawa where housing has been more affordable despite the daily commute it would mean. He found a modest bungalow listing for $519,000 that they could afford. Twenty-three offers were submitted, and it sold for $755,000 effectively shutting his clients out.
He cites forces that are affecting the market and contributing to the shortage of affordable housing. Builders buying existing homes and replacing them with larger more expensive ones.

Foreign money both from newcomers and investors that often want more house and less property. Generational wealth transfers from estates that often provides an opportunity for larger purchase prices. These trends have led to a short supply of housing stock that has contributed to high demand and prices to match.
Governments, at all levels have been grappling with increasing density. Until recently Toronto's Official plan permitted increased density on arterial roads, not in neighborhoods. However, recent by-law changes passed by city council are intended to address the shortage of affordable housing that include increasing density in neighborhoods which historically have been off bounds.
Fun fact, land is finite. Toronto's land mass is 156,674.7 acres that is designated for different uses. The largest land use designation is neighbourhoods representing 35.4% of Toronto's total land area. On July 19,2022 Toronto Council adopted an amendment to the Official Plan which allows for changes to neighborhoods that include; neighborhood retail and service uses, duplexes, triplexes, low- rise walk-up apartments, laneway suites, garden suites and coach houses. Additionally, "On December 14, 2022, City Council adopted a new regulatory framework…for multi-tenant (rooming) houses, which will permit multi-tenant houses all across Toronto" (City of Toronto web site).
These changes have generated a storm of opposition from community groups who challenged the changes but lost at the Ontario Land Tribunal. William Roberts, a lawyer and chair of the Confederation of Resident and Ratepayers Associations in Toronto, who's involvement goes back to 1974, believes the proposed changes to increase density will have the opposite effect and will benefit investors who can purchase multiple properties and then rent them out at $4,000 – $5,000 per month.
Says Roberts, "Toronto used to be referred to as a city in a park. City Planners shouldn't be acting like the building department. This will have a devastating impact on our tree canopy, green spaces, peoples' mental heath, exacerbate flooding and lead to further infrastructure problems. The only way to ensure affordability is to encourage rent-geared-to-income development but we're not talking much about that option."
Scarborough's Lieutenant Governor     February 2023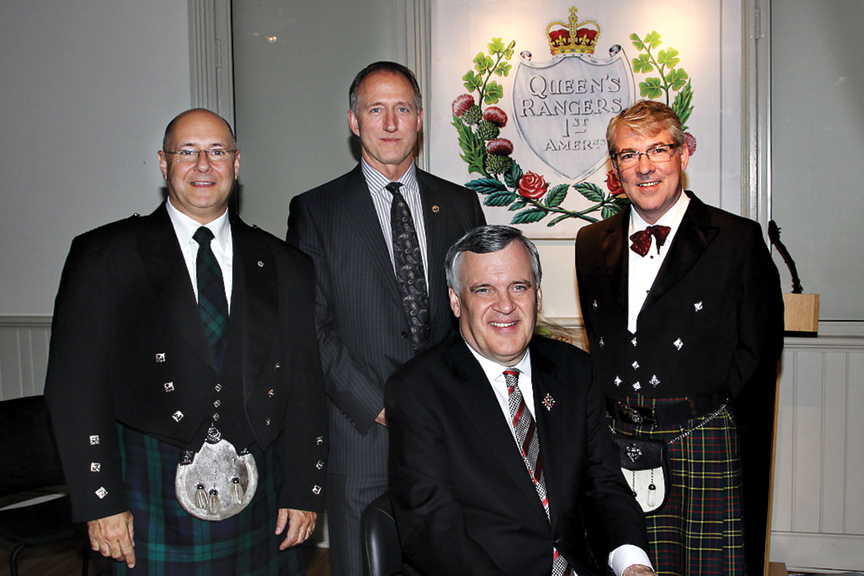 I grew up in the Beach community of Toronto. At the time Scarborough had a bit of a bad reputation. When my parents moved to South Scarborough in 1987 my perception dramatically changed. The people are grounded. There are many green spaces. The lot sizes are generous. And all in all, is a pretty nice place to live, to work, and bring up a family. I learned that its reputation was largely unfounded. Following my parents, my wife and I purchased a property south of Kingston Road in 1989. On a street with some great neighbours. Directly across the road were the Onleys.
We were planning an extensive renovation to accommodate our growing family, but I didn't want to anger the neighbours, so I visited their houses, introduced myself, and explained our intentions. All the neighbours were very gracious including the Onley household which, at the time, consisted of Gwen, the mother, and Gordon, one of the youngest children of a family that consisted of three boys and two girls. Gordon took an interest in our project, and we became friends. On one occasion I asked him if he was a relative of David Onley, our Lieutenant Governor. "He's, my brother." For him it was rather matter of fact, but it blew me away.
David Onley was officially appointed by Prime Minister Stephen Harper and was sworn in as Ontario's twenty-eighth Lieutenant Governor on September 5, 2007. He served two years longer than the normal five-year term and stepped down on September 23, 2014. He was Ontario's second longest serving Lieutenant Governor.
He was conservative in his political views and a devout Christian but in my experiences with him he never mentioned politics nor made references about his spiritual beliefs. He, as Vice-Regal, like the Queen whom he represented in Ontario, spoke and acted on behalf of all people with respect and dignity.
He was afflicted by polio when he was three years old and over time, used leg braces, canes, and a motorized scooter to provide him with enhanced mobility. He studied at the U of T Scarborough campus and graduated with a degree in Political Science then went on to study law, but it didn't interest him. He was passionate about technology and wrote a book about the disastrous shuttle explosion in 1986.
That launched a new and consequential career in journalism, which eventually led to him becoming Ontario's Lieutenant Governor. I had several opportunities to hear his speeches and was impressed at his consistent theme. His narrative, to paraphrase, was that we are all disabled in some way, some disabilities are obvious, but many are not. However, we have to look beyond ramps and curb cuts to perceptions and consider human potential and the economic benefits of that impact on employment opportunities and the positive societal benefits that would result.
In spite of the fact that we had grown up in similar locations, both had similar world views and a shared perspective on the importance of public service our paths only crossed on a few occasions. The most memorable for me was when I was President of the Queen's York Rangers Regimental Association. We were at the official opening of our new armory in Aurora and were playing host to the Lieutenant Governor and his charming wife Ruth Ann. Officials and Officers were in line to greet our Vice Regal Guests. The members of the Regiment were all in dress blues. The past president and I decided to wear our kilts.
We had been advised by the L.G.'s Ontario Provincial Police security team to not grasp his hand too firmly and to keep our comments short. We acted accordingly. When he came to me in the line, I shook his hand and thanked him for his leadership and service. He nodded and gave me a pleasant smile. His very charming wife, Ruth Ann, followed. She grasped my outstretched right hand with both of her hands. She looked down then looked me in the eye and said "Oh… Mr. President, I think we may be having a Marilyn Munroe moment."
I looked down and immediately remembered that I had not been able to find my kilt pin that morning (the small piece of kit that keeps the kilt orderly). And realized that I was also standing over an air grate both of which were contributing to a flirtatious kilt episode. To this day, I consider that my "Onley" moment.
David Onley will be missed for his tremendous contributions to our society and the great and consequential impact he has had on those of us with disabilities.
Fear and Learning is Loathsome     January 2023
On November 17, students at Birchmount Park Collegiate experienced a near fatal stabbing incident. Karen Hume, the fifth Principal in the last two and a half years, provided first aid to the victim until paramedics arrived. Students in the grade eleven class had to step over a pool of blood as they made their exit. When I drove by en-route home, the school was surrounded by police and emergency vehicles. It was the second such occurrence since April.
On December 15, TV Ontario's Steve Paiken dedicated half of his show to the topic of increasing violence in public schools. First, he interviewed Tia Ryan Matthias, a high school student attending York Memorial Collegiate Institute. She indicated that the violence at her school "…is chaotic. There's so many things, so much destruction that each and every one of us encounters every single day. There is not much we can really do about it but just hope that it goes away." Matthias indicated that fights happen daily in the hallways, classrooms, and washrooms and she was constantly afraid of lockdowns occurring when she might not be able to find a classroom with a teacher in it.
Fourteen teachers walked out in protest at York Memorial C.I. on October 31, 2021. According to staff and students, there were not only fights between students, but suspected drug deals and a restroom fight club. Staff members were verbally abused, harassed, and physically assaulted. Three staff members that walked out in protest were particularly worried about their names being present on a student-written jump-list.
(Editor's note: Fourteen teachers walked out in protest at York Memorial C.I. on October 31, 2021. According to staff and students, there were not only fights between students, but suspected drug deals and a restroom fight club. Staff members were verbally abused, harassed, and physically assaulted. Three staff members that walked out in protest were particularly worried about their names being present on a student-written jump-list.)
Matthias is of the opinion that the possibility of violence makes it harder for her to concentrate on her studies and assignments and feels that a police presence would be helpful. Following the interview, Paiken moderated a panel of five. The panel included a retired elementary school teacher, Eitan Lafeur of the Ontario Secondary School Teacher's Federation (OSSTF), a community activist, a PhD. who has authored several studies on elementary school violence, and a mother, Anna Sidiropoulos, who has two sons attending Birchmount and sits on its Parent Teacher Council. A representative of the Toronto District School Board (TDSB) was invited but chose not to attend.
The takeaway from the panel discussion was that school violence is on the increase and is not just affecting students, but also teachers, as they are increasingly the targets. Further that the uptick in incidents is systemic and not just "a Toronto thing." Following the show, I reached out to Sidiropoulos to get her perspective. It was noteworthy that many of the parents Sidiropoulos spoke to felt that a police presence was warranted. However, the experts strongly opposed such a move and had the opinion that police in schools would not lead to positive outcomes.
The comments from Lafeur, the Teacher's Federation representative, was that more resources (money) would serve to address the issue. This is and has been a constant and seems to be their mantra—more money or as they now say: "greater investment and more resources" is the solution. This is a false narrative when over 25% of the Government of Ontario budget, exclusive of teachers' pensions, is spent on the education sector (Sun Life Global Portfolio 2019). The more disturbing part of the panel discussion was that increasing violence is becoming normalized by students who have just become used to it and in many cases may not be telling their parents.
Sidiropoulos sits on two school councils: John A. Leslie Public School and Birchmount Park Collegiate, and has done so for several years giving her some insight into to the way the Toronto District School Board (TDSB) conducts itself. The School Council that she chaired for many years requested a community meeting to discuss school violence with no response. Additionally, when asked to comment by the CBC, the Government, Public & Community Relations Executive Officer for the TDSB, Ryan Bird, responded, "I don't think there is the bandwidth to deal with it this evening."
Presently, four security cameras sit uninstalled at Birchmount Park Collegiate and a security audit of the school, requested by the school council after the first stabbing incident, has yet to be conducted. These responses or, lack there of, begs the question—what will it take for the TDSB to act?
Toronto's Urban Myth     December 2022
Several years ago, a school friend of mine living in Vancouver, but originally from the Beaches where we both grew up, texted me that she was coming to Toronto. I picked her up from the airport and asked what she wanted to see. "Maybe a movie or something because there's not much else to see here. It's and urban jungle. Nothing like Vancouver," she said. I let it go but decided to show her my Toronto. After I got her settled in, I suggested a walk along the Boardwalk.
After a time, she said "Man there's so many dogs down here."
"Yep, it's great for dog walking."
It was a beautiful fall day, so I suggested the bluffs. She agreed as she had never really seen them. We went down near Bluffer's Park. Halfway down the hill she stopped and said "Oh, my God… there's a Pileated Woodpecker."
"Yep."
When we reached the shoreline and started our walk in the bluffs' basin, she paused again.
"What's that?"
"It's a mink."
"I've never seen one in the wild."
"Yeh. Lots of them down here but they play havoc on the signets, the young geese."
In the hour or so we were down there we also saw a fox, a rabbit, ducks and swans. When we were heading back up the hill to get the car I softly said, "Don't move, and look to your left." There were three deer: a doe and two yearlings.
The brief time we were together changed her perception of Toronto from urban jungle to urban forest. That's important for all of us to keep in mind as it enhances our quality of life on so many levels.
The Election Was Stolen     December 2022
On June the 17, 2015, I was boarding a United Airlines jet headed for Chicago. I sat down in my first-row aisle seat (my favorite spot for a quick exit) beside an American guy reading the New York Times. Several pages were dedicated to the upcoming Republican Convention. My seat mate asked, "So what do you think about our GOP race?"
"Well, you have seventeen class 'A' candidates which is an impressive field so it should be an interesting contest."
"Who do you think will win?"
I knew what his response would be: "Trump."
He raised his paper and said, "You're an idiot." I opened my book. About ten seconds later he put his paper down.
"Why would you say that?"
"Well, you've had eight years of Barack Obama and Republicans are going to want a dramatic change. They've been more successful, historically, at winning the Presidency and he's running as a populist with a very simple message, and they do well."
"But he's a buffoon." I placed my bookmark and closed the book.
"I'm not disagreeing with you. You asked me a question and I've given you, my answer."
Airtime from Toronto to Chicago is about an hour and it became dedicated to our conversation. He wasn't un-educated or ill-informed, he was highly intelligent, but not someone engaged in the political process. He was like most—a spectator with a point of view. He peppered me with questions about my political experience. I told him I had been a Riding President for well over thirty years. He didn't know what that was. I told him I had been a candidate, a campaign chair, and a campaign manager on many occasions. Then he started to listen
Advanced western democracies are resilient but also have vulnerabilities. Chief among them is ignorance of the process of democracy. Which in my view is the Achilles' heel. Donald Trump was victorious as the Republican Presidential nominee and then defeated Hillary Clinton to become a one term president. As he approached defeat vying for his second term, he started asserting that the system was "rigged" and the only way he could lose was if the election was "stolen" from him. Trump's claim is that there were over seven million fraudulent voters and that election workers were in on it. The narrative is echoed by Trump supporters and reflected in unfiltered social media and through some US news outlets. What is infrequently discussed are the safeguards built into democratic systems to prevent fraud.
In 1989 I was a United Nations election supervisor appointed to oversee Namibia's first free and fair election. There were representatives from most countries charged with oversight of the event. Canada had one of the most respected teams with 250 soldiers from various regiments, 100 RCMP officers and 50 election supervisors appointed by Elections Canada and by the three major political parties at the time. When we arrived at our regional locations, we went through extensive training to understand the electoral rules. Those of us from Canada, Britain, and Australia, had few difficulties as the rules were based on our systems. However, those from communist countries like Russia, China, and East Germany had a steep learning curve.
The largest hurdle was the fact that many members of the local black tribal populations were illiterate and had to be educated to vote for party symbols rather than party names and were required to place their thumbs on a pad of indelible purple ink that couldn't be washed off for several days. Plus, there were only voting lists for the white Namibians as they had previously been the ones eligible to vote. However, collectively, we managed to pull it off with no arguments about the results.
What we don't often talk about are the layers of rules, with penalties, and people whose purposes are to ensure that elections are free and fair. At the national, provincial or state, and municipal levels there are bureaucrats whose jobs are to make sure elections are run in an unbiased and transparent manner. Then usually one key figure responsible for the election process who here we call the Returning Officer who in turn appoints Deputy Returning Officers who oversee trained polling station staff. Then there are political scrutineers appointed by candidates who have access to lists and count ballots to ensure the clear intent of the voter. When you vote you must present a voting card and or a piece of government issued identification with your name address and photograph on it. Then, when issued a ballot, your name is crossed off the list to prove you have voted. Electoral fraud is not the threat to democracy—it's the increasing number of people who don't vote or understand how safe the systems are.
For more on Namibia – see Dirk Mudge and the birth of a nation at www.bretsnider.com
Living on "The Verge"     November 2022
The Oxford dictionary definition of an 'encampment' is: "A group of tents, huts, etc. where people live together, usually for only a short period of time." We have one nestled in the Bluffs south of Fishleigh Drive. It may sound quaint but there is much more to it. I visited the site on October 4 with two area residents, Suzanne Gabriele and Angela Lynn who are members of The Toronto Lakefront Community Working Group. Angela found the site on Labour Day while walking her dog and was surprised and concerned about the size of the encampment and the amount of damage that had been done to the area.
There are two significant internationally recognized geological features in Lake Ontario. The big one is Niagara Falls, arguably the greatest tourist site in the region that attracts about 13 million people per year. The other—lesser known, but much more vulnerable—is the Scarborough Bluffs. The largest threats to the bluffs' erosion are a combination of both human activity and nature.
On the human front the construction of impermeable structures such as houses and driveways effect water flows from rain and melting snow. There are even people who drain their pools over the edge of the bluffs. Previously (1830s – 1930s), shallow draft schooners called 'Stone Hookers' ripped up the Durham shale from the base of the bluffs to be used as foundations for Toronto area buildings. The cumulative effects intensified the impact of waves eroding the base of the bluffs. This is the primary reason why government efforts have led to the creation of stone spines to reduce the effect of waves on the bluffs. In summary, the threats from the top and bottom are leading to the inevitable loss of this spectacular site.
The encampment has a carving identifying it as 'The Verge,' and stretches for almost a mile. Trees, which hold the soil together, have been significantly trimmed or cut down entirely. Smaller brush has been cleared and piled in stacks. This uncontrolled removal of protective vegetation leads to faster damage and erosion. In addition, while we were visiting the site, we discovered a fire burning in a very substantial and well-built fire pit; imagine the damage a fire would do to the bluffs. Accordingly, we called Toronto Fire who responded in short order. While there, I asked the three firefighters from station 233 if this was common and was informed that it is and has been getting worse since COVID-19. So, we now have more homeless people living in public spaces such as parks but there is little they can do about it. According to 'Homeless Hub', we have over 18,000 people in Toronto who are homeless and over 50 shelters to service them. However, many of these displaced individuals don't choose to live in such conditions. Hence, the homeless are looking for alternatives like the Verge.
In researching "The Verge", I reached out to Councillor Gary Crawford who informed me that: "The City must serve notice of eviction first." Further, that he has worked with police, Streets to Homes, Parks, Forestry & Recreation to get homeless people the proper support and housing that they need. However, it's clearly not an easy task. Later, I also met with the Parks Branch of Toronto. Nice people who dutifully walked John Smee and I through the likely outcomes. To be fair, they were engaged and concerned but not certain of results.
What did become obvious from visiting the site and listening to political and municipal staff is that their well-intentioned efforts were not a certainty, nor would they result in an outcome that would protect the bluffs; an at-risk and unique environmental area. Perhaps this is one of those situations where citizen action is required. The dog walkers and those just getting out for some fresh air and exercise may well be our best defense to help preserve this remarkable area. Knowing what I now know, I intend to make it one of my regular walking trips. 
The Newspaper Business     November 2022
I've started five businesses from scratch and have run a sixth. The first one was a community newspaper. It was in 1981, the same year that Now Magazine opened its doors. As of now, pun intended, "Now" is on life support and for sale. "Now magazine is down to a handful of staff and its owners have gone bankrupt. Is this the end of the alt-weekly?" (Toronto Star June 15, 2022). Also, close to home the Beach Metro News, established in 1972, is having problems and dedicated a recent edition's front and back pages and centre spread to an ask for donations to keep it alive.
I called my paper "The Advocate" so named after the "Colonial Advocate" William Lion Mackenzie's paper. He was the first mayor in York, now Toronto, in 1834. Prior to that he was a member of the Provincial Legislature from 1829-1834 and then again from 1851-1858. He tried to lead rebels to overthrow the government of Upper Canada, then tried to rally Americans to overthrow our Provincial government and was imprisoned by the United States for his attempt. So… a rebel and a journalist.
I was a kid when I started the newspaper, optimistic but clearly not that bright. That same year (1981) a Senate committee wrote a report entitled The Canadian Royal Commission report on Newspapers. It was called the Kent Commission and it wasn't encouraging. Several years ago, when I was cleaning out the garage, I found a banker's box with my equipment from my newspaper. It included a "T" Square, a camera that used film, an exacto knife, a metal ruler, a glue gun, and paste-up boards. Today its all digital. Effectively, the remnants in my box are antiques, but the nuts and bolts of running newspapers remains the same.
It requires about sixty percent advertising to survive, and the remaining forty percent is a combination of photographs, occasionally artwork, and the written word. Then there is the physical production of the product. At the time of my paper we used the School of Journalism at Ryerson to produce Linotype, which is literally lines of type that was pasted to boards and then converted to metal plates. The plates were later taken to The Korean Times on Bloor Street for production. I had to drop off our plates at 2:00 AM and would pick up the 30,000 copies of the finished paper at 8:00 AM. Then the hard part started – distribution.
We had four ways to get the finished paper out to readers. First and most effective, we dropped off bundles to various outlets – grocery, retail and liquor stores. Then we had our hard luck guys mostly junkies, addicts and individuals that were just down and out. But they were very dependable as we paid in cash and checked on their work. Then a handful of volunteers who were reasonably dependable. And finally, a small core of kids who were the least dependable and had to always be monitored. Once all four distribution vehicles were employed, we'd take a short breath and start over again for the next edition.
While I firmly believe papers are important as a source of information, entertainment, and civic engagement we often take them for granted and don't appreciate the herculean effort it is to get into people's hands or increasingly accessible on our digital devices. So, thanks to all of those who help get it out the door.
On the Fragility of Democracy      April 2022
On January 6, 2021, the world witnessed an insurrection in the United States on its capital by thousands incited by Donald Trump's claim that the Presidential election was not free or fair. Five people died. A huge number of Americans still believe his claim to be true.
            We think democracy is old (demos meaning 'people' and 'krátos' meaning 'force' or 'power'), and Ancient Athens gets credit for it. However, there were other states at the time (circa 6th century BC) also thought to have been playing with the notion of various forms of what we would now characterize as democracy. In the city state of Athens, it lasted for a few hundred years then it largely disappeared as a common form of government.
In the modern world, the United States established its constitution in 1788 and is considered the world's oldest democracy (234 years). So, in a span of over two thousand years, we largely had other forms of government that included monarchies, aristocracies, oligarchies, theocracies, and tyranny. To this day we still have them. In our modern Western world, we consider these forms of government to be unfair and unjust. However, since confederation average voter turnout in Canadian federal elections has been 70 percent, it drops to about 60 percent provincially. Average historic voter turnout in the United States is less than 60 percent. In other words, many take democracy for granted.
Watching the Ukrainians defend their democracy from the Russian invasion has been inspirational and terrifying at the same time. I used to refer to Vladimir Putin as "Rootin-tutin-Putin." However, having watched news reports of his absolute barbarity and wanton disregard for human life, I now refer to him as "Vlad the Impaler," a reference to the 15th century Romanian Prince who had a penchant for impaling his enemies to evoke fear in those who opposed him. Putin murders or imprisons his opponents, and has been responsible for the annexation of six territories since coming to office or gaining effective control of the Russian Federation. What Putin didn't count on was the defiant will and determination of the Ukrainian people in their defence of democracy.
In 1989 I was fortunate enough to be asked to serve with the United Nations to help oversee the first free and fair election in Namibia. It was a former German colony known as South West Africa. However, in the aftermath of World War I, all former German colonies were ceded as "Mandates" to other countries by the League of Nations (a precursor to the United Nations). Most gained independence in the 1960s, except for Namibia, which was ceded to South Africa. The South Africans treated it as a de facto fifth province. It had mineral resources, Walvis Bay (the only deep-water seaport on the western part of southern Africa) and acted as a buffer zone between the Marxist-Leninist government of Angola to the north. So, all in all, it was not bad place to keep control of for both financial and security reasons.
The international delegation was diverse as each country had sent different types of people to be election supervisors, many of whom were from non-democratic countries or had little experience with electoral politics. By way of example, the French sent judges, the Dutch sent accountants, the Russians, Chinese, and East Germans sent "Diplomats" so–spies. Canada sent 50 Election Supervisors (who consisted of Elections Canada staff), political appointees, 100 RCMP Officers, and 250 Canadian soldiers.
Almost 8,000 foreign nationals were present representing 120 different countries. Canada, Britain, and Australia had by far the strongest teams present and had the best grasp of the process as the electoral rules were based on those countries' election laws. Throughout the mission 74 people died, but the election was deemed to be free and fair. Shortly thereafter, Namibia became an independent country.
When I started to become active in politics, local campaigns would often have hundreds of volunteers. Now you are lucky to get dozens.
According to Lord Tytler, a Scottish Historian, the average age of the world's democracies is around 200 years. After two hundred years, the nations collapse due to various economic policies and be followed by a dictatorship. Lord Tytler identified "Eight Stages of a Democracy", from beginning to end. The eight stages go from bondage to spiritual faith; from spiritual faith to great courage; from courage to liberty; from liberty to abundance; from abundance to complacency; from complacency to apathy; from apathy to dependence, and finally from dependence back to bondage.
Reginald Pulliam, Evan Belanger/Alabama Media Group
As of February, the US is $23.3 trillion in debt.
Most people don't realize how few people are engaged in keeping our democracies alive, providing us with viable political alternatives, points of view, and ultimately a choice. In Canada, political Riding Associations (provincially) or Electoral District Associations (federally) are responsible for raising funds and cultivating volunteers to help field democratically chosen candidates in elections. At best, they consist of a few hundred members for each of the viable political parties, and within that subgroup, a handful of people serve local party executives and volunteer in elections to aid candidates in their efforts.
When the subject comes up in conversation, we should reflect on the small number of people, regardless of political stripe, who contribute their time, talent, and treasure to provide us with the political choices we take for granted. We need only look at the current challenges faced by the people of the Ukraine and how passionate they are in their fight against Putin's totalitarian Russia.
Many forms of Government have been tried and will be tried in this world of sin and woe. No one pretends that democracy is perfect or all-wise. Indeed, it has been said that democracy is the worst form of Government except for all those other forms that have been tried from time to time…
Winston S. Churchill, 11 November 1947
Fish & Chips & Feeling Fine      March 2022
A few weeks ago, Bobby Walker, a retired Millwright invited my wife, Lisa, and I to dinner. For those of you who don't know what millwrights do – they install, repair, dismantle and reassemble machinery in places like car plants, airports, industrial facilities, and mills. And, in the early days, many were of Scottish decent like Bobby who has a brogue deeper and thicker than a 20-year-old glass of scotch. Lisa works for a firm that administrates third party benefits to mostly private sector unionized workers and Bobby, who was a union member, is a friend and neighbour of ours.
He chose the Tara Inn on Kingston Road which I thought ironic – a Scott to choose an Irish pub. Bobby likes the place and a friend of his was providing live music. Nonetheless there we were. He and Lisa regaled in tales of people, incidents, and stories gone by. There were situations and persons of whom I knew nothing about, but it was fun to listen to regardless. It was a circumstance we have all been in where you just shut up, smile, and enjoy the experience.
Throughout the fish and chip meal, I kept noticing the people around us. The Tara staff were fulfilling their responsibilities and asking all patrons for proof of vaccination upon entry and was operating at the capacity limits required to ensure safety. Table assignments were socially distant, and all were respectful.
At one point I noticed a woman close to our table trying to take a selfie of she and her husband by propping up her cell phone on a nearby vacant table. Every time she did the phone fell over just before the camera was ready to do its job. I offered my assistance, and they were grateful.
As Lisa and Bobby continued their trip down memory lane, I noticed the joy of other patrons. All had smiles and it was self evident that the tone and tenure was all positive. Those present were getting into a post pandemic mode – a return, though limited, to normality after two years of restrictions.
As a country we have lost thousands in wars, 1812, the Spanish flu in 1918, World Wars I and II, Korea, UN Peacekeeping missions, and now during Covid-19 but life continues and we, the lucky ones, must carry on while not forgetting those friends and loved ones who weren't.
Individuals, families, and businesses have all paid a price during this once in a lifetime trauma, but signs are good and moving in the right direction and the experience at the Tara was a tell. Past generations have faced significant challenges but after it's all over life returns to some semblance of normality. This was our trial, and while it's not over, it appears that we are close, and now we must prepare to move on.
Political Will & Public Transit
By Bret D. Snider
I consider myself fortunate in that I have had the opportunity to travel, mostly for business, but also pleasure. In my sojourns abroad, I have had the occasion and need to utilize local public transit to get from point to point and have constantly been surprised at how efficient they are–and how lacking we are. In Toronto, we perceive our transit system as we do our city: 'world class'. However, when I consider our rapid transit system, I view it as mediocre. Case in point, try getting from the east end to anywhere in the west end easily, particularly from northern Scarborough.
Most of us, when thinking of 'world class cities', would name the usual places–London, Paris, New York, Chicago, Los Angeles, and Berlin. But when you compare the public transit infrastructure, Toronto comes up short. I have spent a lot of time in Chicago and the transit there, while not pretty, is highly functional. Most cities of comparative size have much better access to high-speed transit than we do, and it always seems to be a political football that we drop.
We have started and stopped major transit initiatives for many years and seen successive administrations change course based on the spectre of tax increases. As a person that has on occasion been involved in the political process, I get the dilemma and the risk of standing behind tax increases, but the dilemma of transit is that it's never going to get any cheaper to build. It's a one-way ride–more capital expense the longer you wait, and it's unlikely that the population of Toronto is going to get any smaller.
However, I believe that the primary influence on our new transit considerations will likely be people working from home and fewer requirements to be in a rented (or leased) building or floors where people work together, far from their homes or places of residence. Most independent businesses don't own the places they function in and it's a big line item for most entrepreneurs.
By way of example, last week I observed four TTC buses with a total of one paying person on board. Not one in each bus, but one in total of all four buses. Clearly this is not a scientific observation but, I would put forward that it may forewarn a trend that we, as taxpayers, may want to consider and must have the courage to ask our elected officials. Are we getting the services we need? And should we re-consider our transit requirements based on what could be the new normal: a much higher percentage of the population working from home–not as a necessity but as a life choice–and perhaps as a corporate decision to reduce costs.
In turn, this begs larger questions about how much we need to be or should be spending on infrastructure. Clearly, the jury will be out on this question until the pandemic is over and done with. Going from Scarborough to Etobicoke on the Gardiner with so many entrances and exits eliminated poses challenges and delays for many. Whether things will go back to what we were used to is an open question. A hybrid scenario is most likely, where people will still have to go into the office on a more limited basis. Perhaps it's not time to go back to the drawing board just yet, let's keep our pencils sharp.